Coming up with high-quality products that can deliver the intended results can be a challenge, however, when you have a clear plan on how to approach the process, the whole task can be lighter. Armed with contextual information which would assist in determining whether the product has a good fit is the starting point. At Noah Matrix we address this need through conducting the necessary processes, engaging in a context-specific product review and arriving at the necessary conclusions. In conducting an idea or product evaluation, we examine the experiences and capabilities and from such an exercise we get an understanding where the client lies as far as the digital platform we need to create is concerned. We identify the target market and aim at collecting as much data as possible to ensure we understand their needs and how they would like solutions delivered. We also aim at knowing what will make the product which we are developing stand out. The features that are needed to make the product or services different are explored and how they fit in the whole equation of perfect delivery is examined. The process also involves understanding the competition; this is done by carrying out research on similar products in the market and establishing their performance. The evaluation process ends with a financial feasibility analysis, which aims at understanding where there are adequate resources to see the successful completion of the project. Also, the feasibility study involves ascertaining the financial viability of developing the digital platform product. More ..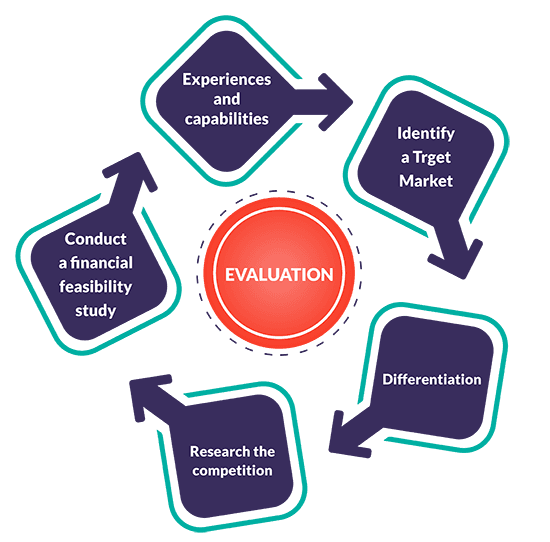 Experiences & Capabilities
At the heart of a given product is the solution it offers to the users, the experiences it gives. It is not uncommon for the product developers to center their attention on this, creating or improving the core component that solves the given product. It is important to think about the experiences and capabilities surrounding a given product or service; thinking through all the point of interaction to ensure that what is developed is an exceptional product or service experience. During the product development process, it is important to define all the requirements. These requirements need to be included early in the process. To understand the processes and requirements, it is necessary to conduct a comprehensive assessment.
Identify a Target Market
To come up with a product that meets customer and business needs it is important to identify the typical market and tailor its development towards this end. Having a well-defined target market ensures that you come up with a product that addresses the needs as well as solves the current and future problems. As a business which is interested in succeeding in a competitive environment, it should not be about targeting anyone interested in your services or products. This is one big mistake that most of the business do, as a business which is focused, you need to be sure whom you are targeting, a specific market and then build your products around this.
Identification of your target involves looking at what your product offers and thinking around who may be interested in such a solution. Sometimes this may involve talking to several people, finding out how they go about solving a given problem. From such an engagement, you will get an insight into what they want in a given product. This kind of information will help you design the product in such a way that it will address their needs effectively.
To come up with a product that will appeal to the majority of the targeted or potential customers, the first thing is to understand that the overall market has consumers with different characteristics. These characteristics include geography, demographics, benefits, lifestyles, loyalty among others. When you talk of demographics, this refers to statistical parameters such as income, age, level of educations that define the market segment. This is information that can be easily accessed in most country's census cites. Geography refers to customer location or where the product will be used. Lifestyles can be identified as beliefs, attitudes, behavior social-economic characteristics, leisure habits, technological capacity, religious practices among others. Benefits refer to the gains that the product in question may offer to a customer. A product may be designed to offer affordability, ease of use, reliability, some segment of the market may be interested in other benefits which the same product can offer. Loyalty refers to affinity to a given product or brand.
The fact that you are targeting a specific market does not mean you are excluding others who do not fit your criteria; rather this allows you to focus your resources in building a brand for a market that is more likely to patronize your product rather than buying from other markets. It is much more effective, efficient and affordable way of reaching the potential customer and generate business value. For instance, a design firm could choose its target market as people interested in owning a home with ages between 30 and 60 years and have incomes of $ 150,000 in a given geographical location. The firm could further define its market as customers who are interested in traditional styles and further breaking it down to new parents, retirees among others. When they have clearly defined their target audience, it becomes much easy for the business to determine where their potential customers are and also devise ways through which they can reach them. At Noah Matrix, we help our customers get this right, clearly identify their target market, using the right information and going ahead in identifying ways through which they can be reached. This also comes in handy when developing digital tools, as they will be designed in such a way that they can address the needs of targeted customers as well as assist in meeting the business needs.
Differentiation
For any business, product knowledge is an important skill; it allows the presentation of their benefits persuasively and accurately. Customers normally respond to those who are enthusiastic and passionate about their services or product and are keen at sharing with them the benefits they can derive from the product. Also, customers are highly likely to trust those who show confidence in their product; all this is built through increasing your knowledge of the products and services that you offer. It involves knowing all the features of your product and how it compares with others in the market. It involves a thorough understanding of what makes the product different. It is out of that knowledge that you will be in a position to present it as different and above all convince the customer that it will provide a superior experience that what the competition can offer.
To know what makes your product different involves looking at what the competitor is offering and comparing it with your own. You need to study the competitive environment to understand how they carry out their business intending to discover the differences. Once you understand where the difference lies, get to know about the performance of the alternative product. This will help you gauge your performance and undertake measures that will address the shortcomings if there are any.
A product or a service is supposed to address specific customer needs, if it performs this function effectively, chances of it beating the competition are very high. Any business out there should strive to meet the customer needs always. If there are any shortcomings in this, a business should take all the measures to ensure that corrective processes are undertaken. Noah Matrix will be at the heart of this, helping businesses discover their weaknesses and strengthens and together come up with strategies which will capitalize on strengths and work on the weaknesses.
Research the Competition
In every business there will be others offering the same products, these are the entities whom you are sharing the available market. The competition also involves those who are providing an alternative product. For every business, success comes with control of a relatively larger market share compared to others offering the same product or service. Knowing who you are competing with in terms of market share allows you to carry out business operations in a manner that makes your product stand out. It will also allow setting the prices competitively and also assist in responding to rival marketing strategies with own effective initiatives.
Knowledge of your competitors helps you come up with strategies that take of your competition weakness and greatly improve your enterprise performance. When you discover areas that your competition is not doing right, you will come up with plans on how you can use this information to your advantage. It will also be a good chance to assess of any threats that may be posed by any new entrants to the markets as well as the current competition, this knowledge to a large extent will help in coming with realistic plans, those that will guarantee the success of your enterprise.
Who are your competitors?
It could be a new business which is offering similar or substitute product, something that may make your product redundant.
It can be another service or product which is in the development process.
You can get information or clues about other businesses offering similar or substitute products through the following channels :
Local business directories or yellow pages
Looking at the business directories in your country or region will give you a list of businesses operating in an area and also the kind of activities that they engage in. You will be able to identify those that engage in similar activities, where they are located and even the owners of the enterprises. With this information, you can conduct further research to understand how they operate and if they do things differently.
The chamber of commerce operating in your region
Chamber of commerce has a list of all the members operating in an area and the activities which they operate in. Most likely you will also be a member of the same business organization, so this kind of information will not be hard to get. You can also engage with the same businesses owners during the important activities organized by the organization. Here you will get a deeper insight into how they operate, areas you can collaborate and also what they think about you as a competitor.
From the advertisement in different media
Advertisements, whether in television, radio, newspapers, magazine, billboards or any other media aim at informing the customers of a given product and services that are offered by an enterprise as well as how they can access it. A lot of information can be obtained from these advertisements that can help you learn more about the competition. You will also learn how these products compete with yours. While it is important to note that some of them may be exaggerated, the fact that they give details which are aimed at capturing the customer attention should not be lost in the analysis. Use them cautiously, with an understanding that they are dynamic and are designed to address a current perception about a product.
Newspaper reports
Press reports will give you information about businesses, more so when they are launching products or holding other functions. Businesses see this as an avenue where they can inform the public on their operations.
Exhibitions and trade fairs
Trade fairs and exhibitions are platforms where businesses showcase their products. In these forums, you even get a chance to meet with your competition, seek to understand how their products address customer needs among other information.
Internet search
A search on the internet where you use the product or service that you offer as the search word or phrase.
Information from the customers
Customers can give you an experience with a rival product, they will tell you of the areas where it performs better or poorly relative to your product. Pay keen attention to customer feedback, it can help you understand your competition better. Customer feedback and reviews play a great role in helping you understand how your product is performing with others in the market. It is from your interactions with the customers that can help you know other products in the market some of which you may not have known because their produces use nonconventional marketing methods, those that target the customer directly instead of mass advertisements.
Patent list search
You may use the patent lists to know existing patented products which are similar to what you offer.
What to know about the competition :
The product they deal with and the methods they use to reach to their customers
The range of prices they charge for their products or services
How they deliver and distribute their products
The types of devices they use to enhance customer loyalty and the backup services they offer
Branding and design values
Their staff numbers and the type of staff they attract
Their employment of information technology and the kind of systems they employ
Who are the owners of the business and the kind of persons they are
Their media activities, the type of platforms they apply.
For you to get all this information, you need to carry out an intensive activity, which might be time-consuming. However, the kind of information that you will collect in this exercise is very useful, it will lead to sound decision making, you will come up with strategies that will help you capture a substantial share of the market.
Acting on competition information
You need to evaluate the information that you collect about the competition. It should be at a position to tell you whether there are gaps in the market which can be exploited. It should also show whether the market is saturated, a piece of information that can help you to identify the areas to focus on us.
Come up with a list of everything that that you have discovered about the competition, regardless of how small it might be. It is an important piece of information which can help you in deciding on how you will run your business successfully. This information can be divided into three categories:
What can be learned from it and what can be done better
Where are they performing poorer than you
Which areas are they doing the same as you
What can you learn and be do better ?
If you are not sure of the areas where the competition is doing better than your business, you need to respond and come up with some tangible changes. This could be about improvement of the customer support, assessing the price levels or updating the products, changing your marketing strategies, rebranding the product and website. While it does not imitate as this may bounce back and burn all the efforts and time that you have spent getting information about the competition. The competition might have rights on the idea that you are trying to pursue, therefore, caution should be exercised to avoid a situation where you are accused of violating these rights.
Which areas are they performing worse than you ?
It is now time to exploit the gaps that you have identified in your research. They may range from the product range, the marketing strategies, distribution, or even in the way that you go about recruiting and retaining the employees. Renew your efforts in areas that you identify to be doing better than the competition, capitalize on them while also taking action to improve on the areas you identify as low in terms of performance in comparison to the competitors. You mustn't be complacent on your strengths as the competition may have performed a similar exercise and it is only a matter of time before they become better than you.
Which areas do you match in terms of performance ?
Learn why they are doing the same things as you, you may not be impressed but it perhaps both of you need to change this. Carry out an analysis of this and see whether you can get it right. Know that your competition may be planning about the same thing, so you need to be careful, move fast and in the right direction so that you do not lose it out.
Conduct a financial feasibility study
When an enterprise has an idea about a new product, they need to conduct a feasibility study to ascertain whether the idea is viable. A comprehensive feasibility study examines the market, analysis the technical and production issues, assesses the economic factors which involve carrying out a financial feasibility study. A financial feasibility study is an important component of feasibility, which ought to be carried out for any project. Financial lenders insist on this study to be sure that the project they intend to fund will live up to its expected performance. It is through this process that cash flows are assessed and the general profitability of a product is estimated. This study focuses on the financial aspect of the product, assessing its economic viability through evaluation of the startup costs, cost of operations, cash flow and forecasting the future performance.
Identification of the startup costs
This is the first step in the preparation of the financial feasibility analysis, the typical costs include:
Purchasing of assets such as land and building which may be required for the enterprise. It is important to note that this will depend on the type of product that is being developed. Some product may not require space but definitely, there are some assets requirements.
Acquisition of pieces of equipment which will be needed in the process of product development
Any licenses and permits which may be required; what needs to be considered here is the cost of acquiring these approvals
Any deposits which need to be made regarding leases
Initial costs in the purchases of materials which will be needed in the course of product development
Legal and accounting fees which will be incurred in the process
Any costs incurred during the market research exercises
Employees wages and salaries
Costs related to advertising and other vital services in the course of product development
Cost of utilities associated with the enterprise product development process
Most of these costs are incurred once but they require upfront funding before the business start the operations.
Preparation of the cash flow and profit projections
The next step involves the projection of cash flows and profit which is expected to be generated. These projections comprise of sales, cost of production, and the operating expenses which should be classified as variable or fixed costs. They should also include the funds which will be required for the startup.
Other processes involved in financial feasibility analysis include determination of the return on investment using tools such as internal rate of return, net present value, payback period and profitability index among others. In these analyses, the enterprise is interested in assessing the attractiveness of the product to equity investment and general financial return of the undertaking.